Driver's Ed
$660
Includes Road Test at our school!
We are holding ONLINE Driver's Ed courses on Mondays, Tuesdays and Wednesday evenings from 6 to 8 PM. There are 15 classes -two hours each. Students can take classes in any order since each class is a different topic. Students can make up classes missed when they rotate through again in 5 weeks. (Students just need to be 16 years old to start, they do NOT need a permit to start - to obtain a permit students must go to www.ct.gov/dmv - the Department of Motor Vehicle website to sign up for a permit test).
Included in our program are four 2-hour driving lessons and students take the driving test right at our school if they are between the ages of 16 -21. We can bring students 22 and over to their test at the DMV for an additional charge.
For driving lessons we pick up in the following towns - Vernon, Manchester, South Windsor, Ellington, Tolland, Coventry, Bolton, Andover, East Hartford, and East Windsor. If you do not live in one of these towns you will need to be dropped off at our school for your lessons or we can meet you halfway in one of the towns we pick up in.
The BEST part is students will not need to go to the DMV for their road test:
The DMV will mail the driver's license to students after having passed the test at our school!
Once the student passes we will give you information on how to pay the license fee of $84 on the DMV's website.
The DMV will mail the driver's license to students within 20 days. Students can drive as soon as they pass with a temporary license the DMV inspector will give them.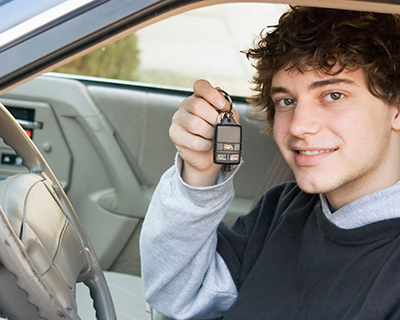 Most insurance companies give a discount for the full driver's ed program! You can register here online or call our office.